SKIRAMA SKIING DISTRICT

The Pila district is inserted in a naturalistic context of extraordinary beauty: "The Great Balcony of the Matterhorn" located at 4000 metres is a huge terrace with amazing sections overlooking the valley that moves from Mont Blanc to the Matterhorn, Mount Rosa and Gran Paradiso. With 70 km and 30 slopes for all levels, the district reaches 2700 meters of altitude, to guarantee a snowy surface that is always impeccable thanks to the programmed snowmaking systems. Near the village are the "first steps camp" for younger skiers and the Fun Park with bobs, sleighs, snow tubing and inflatable playgrounds on the snow:
so much fun for all ages!
There are 4 black, 21 red and 4 blue ski runs to meet the needs of all skiers from beginners to the most experienced ones.
The most interesting, recently renovated slopes are:
Gorraz: promoted, thanks to the works carried out during the last season, to a competition ground for international slaloms.
Du Bois: extended in the final part and approved according to international requirements for fast activities.
Bellevue: is especially appreciated by the more expert skiers; thanks to the connection with the Du Lac run, it allows a long track for Super G races. A unique and priceless view onto the four thousand metres of the Vallée.
AREAEFFE is the first snow park in Valle d'Aosta (winner of the Northwest Best Park Award in 2016). Located in the woods sheltered from the wind at 2200 metres above sea level. The descent is divided into two lines with a different difficulty, there is also a beginner area to attract new skiers.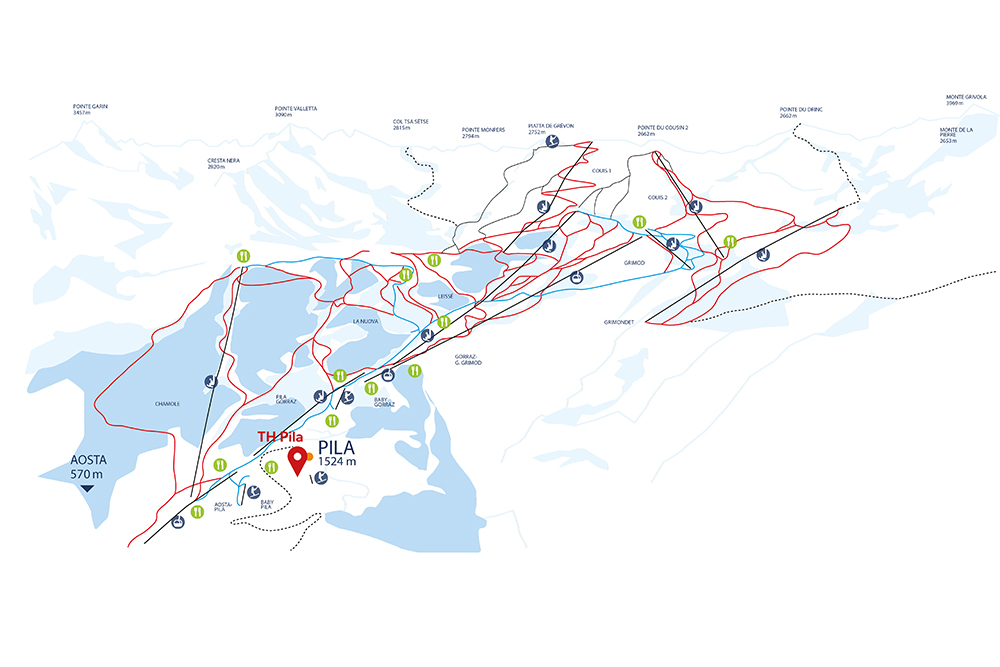 SPORT AND SURROUNDINGS
For those who are looking for an alternative to skiing, it is possible to follow numerous snowshoe trails in Pila assisted by alpine guides. The panoramic swimming pool and a small gym are available to guests inside the structure to spend some time relaxing after a day skiing down the slopes.